General Spaces
AP/PE1 Space – Room 104
The Fernald Adaptive Presentation Space is a modular space that can used in its full volume or partitioned into smaller production, experimentation and presentation spaces. This space is intended to support a variety of uses from class use by New Media, Communication and Journalism, and Intermedia; a space for temporary installations and large scale construction for testing and experimentation; sensor testing and physical computing testing; a sound stage for film, video and musical production; a performance space for theatre, dance, music and other performance uses, as well as an exhibition and presentation space for projects, art works and performance works. Modular walls, curtains or scrims, a sprung-wood floor, and collapsible seating will encourage a variety of different uses for the space.
The Fernald APPE space is available for rent. Visit the Facilities Use Request page for more information. If tech support is needed there will be an additional charge.
AP/PE2 Space, Immersive Sound and Video Space – Room 104
AP/PE2 is a 20 by 20 foot seamless four wall projection space with full 3D sound. This design is novel, as it allows for seamless, omni-directional perception (visual, auditory, and haptic) utilizing real, virtual, augmented, or mixed reality environments. AP/PE2 serves as a state-of-the-art collaborative core for interdisciplinary research initiatives and commercial applications across the region and the state. The facility would provide infrastructure resources for researchers and companies to conduct transformative experiments, develop new methodologies, and create and evaluate emerging technologies.
IMRC 112 Info Tech Classroom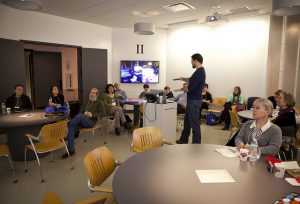 The IMRC provides several classroom spaces for multi-media instruction. The IMRC Room 112 Information and Technology Classroom has four surround screens and a large format projector, with a seating arrangement that allows for group activities as well as individualized instruction.
HPMCC (Studio and Render Farm) – Room 113 Design and Computer Lab
The High Performance Media Computing Cluster is one of our two classroom spaces. If has spaces for 20 students and 16 hardwired Mac workstations. The stations will be set up so that they can dual boot into either a MAC OS of a Windows OS. This room will house or more tradition skills based instruction on applications (Adobe CS products), video production (with Final Cut and Premier), 3d applications and Modeling (Autodesk Suite, Maya and 3Ds Max) and performance, music and audio production (Protools, Ableton Live, Max MSP and Isadora).
Shared IMFA Studio Space – IMRC 118
The IMRC 118 Shared Studio space is designed to help facilitate IMFA student projects.  This space can be used for large project creation as well as being used as a temporary exhibition or performance space.  This space is not intended to be used as storage, but will also sometimes be used as an impromptu classroom for IMFA courses.
IMRC 118 – Shared Studio Space Policies
This shared studio space can be reserved online via our room reservation form on the IMRC website.
This room can only be reserved by IMFA students & faculty
This room can be reserved for a maximum of 7 consecutive days.  Any longer reservations need to be approved by the IMFA administration
This room needs to be cleaned and completely emptied of all materials after each use.  If you nail or screw things into the walls, they need to be removed and the holes patched / spackled and painted.  Please coordinate with Sean Taylor to get access to these materials.
NOTHING THAT EMITS TOXIC VAPORS OR DUST PARTICLES CAN BE USED IN THIS SPACE!  Anyone who does will forfeit their right to use the space.
Anything that emits loud noise or sound must be pre-approved by the IMRC administration before being used in this shared space, as  not to disturb the surrounding studio spaces.
Please be considerate and respectful of your fellow graduate students in the surrounding studios.  If you feel that something you are doing might impact them, please consult with them  and ask permission from the IMFA administration before moving forward with your plans.
This space will be emptied of all remaining materials and cleaned at the end of each semester, preferably with the assistance of all the graduate students and faculty in the IMFA program.  All materials / work must be cleared by the final Thursday of finals week for each semester and by the Wednesday before the last week of Summer break before classes begin.  All materials left in the space after these deadlines will be removed by the IMRC staff and moved to the loading dock.
All pedestals and tables in the space are there to be used by IMFA students and faculty.  If you alter or damage the pedestals, please repair and paint them after use.  Tables, pedestals and cabinets can also be moved with permission of the IMFA administration to other locations if the entire space needs to be clear for a project.
If no one has the space reserved on the IMRC 118 calendar (viewable on the IMRC website), this space is available for quick projects on a 24 hour basis. However, this still needs to be communicated to Susan Smith so that she can update the calendar accordingly.
Seminar Room/HD Conference Room – Room 122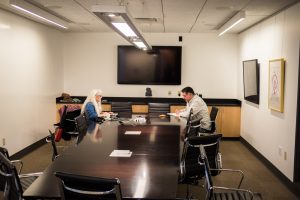 This space has several overlapping but divergent uses. It is used for small classes and particularly seminars of not more that 15. It is also set up for meetings of staff and faculty, small working group meetings of students and faculty as well as faculty and private collaborating businesses. It can also be used for film screenings, for small group events, and even has support for use as a social science testing and observation space for focus groups. It is fully outfitted with HD video and sound presentation equipment including a region free DVD and Blu-ray player, wireless MacMini Computer, wireless microphones, and a 70 inch HD LCD screen. The Seminar Room is also set up for online teaching, conferences and meetings through Skype, Facetime or Connect.
The Seminar/conference room is available for rent. Visit the Facilities Use Request page for more information. Basic instruction for room use is included in the rental fee. Ongoing tech support is available for your event for an additional charge.
Media Center and Resource Space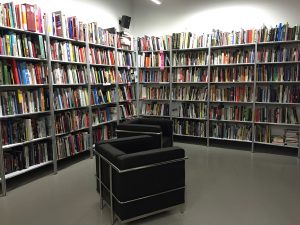 This space houses the Intermedia Program's growing collection of media, books, periodicals and other resources related to New Media, experimental art forms, and Intermedia. The space houses the CWS Collection of some 3000 books, 500-750 back issues of individual periodicals, 200 dvds and cds, and 2000+ artists books and multiples. The IMFA program's eight ongoing periodical subscriptions will also be accessible here, including Wire, Cabinet Magazine, Esopus, X-TRA, and Art Papers. The space is to be used for student and researcher access to these materials. The space is intended to also support general reading, investigation and researching on artists and media, viewing a variety of media, and general quiet study. In addition to the collection itself, the space  houses a variety of electronic display and performance equipment including a small media/film viewing space with a 50″ HD plasma screen and professional audio, two computer workstations and a full audio playback system for both digital and analog materials including a USB record player, tape deck, CD and DVD players and a VHS deck.
Media center is located in the heart of the IMRC center just off the Commons on the upper level, in room 125. The hours of the Media Center are by appointment or open in general on Wednesdays from 12-5. For more information or to schedule time to access the collections please email siglinde.langholz@umit.maine.edu.