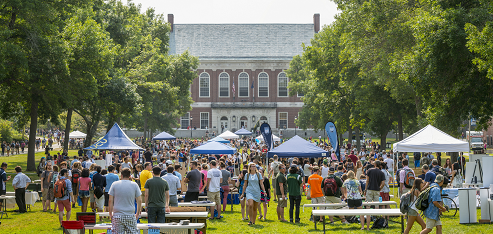 IMRC Center at UMaine Student Org Fair | 10-2 Wednesday 9/1
The Innovative Media Research and Commercialization (IMRC) Center will be at the Student Organization Fair on Wednesday, September 1st, from 10 AM – 2 PM on the Campus Mall. This event is put on by the Center for Student Involvement.
UMaine students who are interested in getting involved on campus are invited to stop by to learn more about the 100+ student organizations that will be tabling on the Mall. The various student organizations fall under categories including: academic/professional, fine arts, fraternities, sororities, honorary, multicultural, recreational, religious, service/philanthropic, student governance, and special interest. Students will have the opportunity to sign up for each student organization's email list and be invited to their first meeting of the semester.