IMRC Holiday Hours are as follows:
Dec 26 through Jan 18, 10:00 am – 5:00 pm
Holidays when the IMRC is Closed:
December 24, 2018 Christmas Eve
December 25, 2018 Christmas Day 
December 31, 2018 New Years Eve
January 1, 2019 New Years Day
January 21, 2019 Martin Luther King Jr. Day
Engage | Create | Innovate

The goal of the IMRC Center is to re-envision creative teaching/ learning/ research models with an aim to resituate creative practice within larger knowledge-making practices and expand its impact and range. The IMRC Center is designed to support the creation of a diverse collaborative ecology of experimental research and pedagogy.
Research
The creation of a culture of research and development in new media, intermedia, information technologies and creative industries.
Innovation
The establishment of culture of innovation, engaged creative problem solving, and a renewal of ingenuity for the 21st century.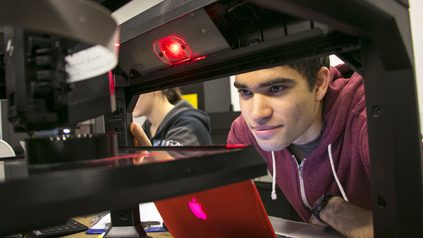 Training Future Leaders
The development of visually educated, culturally attuned work force and future creative and business leaders.
---