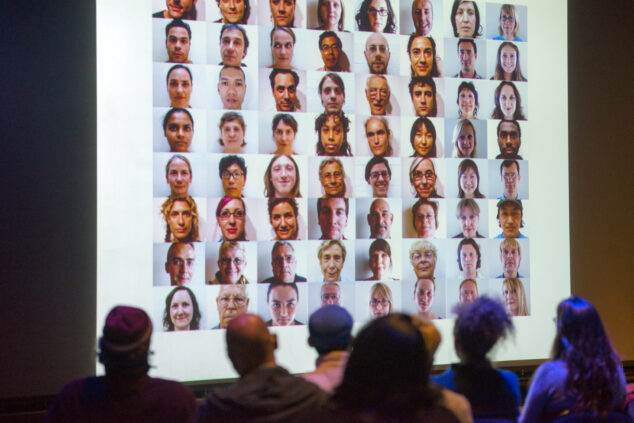 Arts & Humanities in Medicine Conference at IMRC Center
The IMRC Center hosted a conference for the Art & Humanities in Medicine Program, a certificate program under Intermedia Graduate Studies, on January 28th. The conference was held in close collaboration with the University of Maine Institute of Medicine and the Native American Studies Progam. Topics discussed included how the arts and sciences can ask each other difficult questions, share vocabularies and build trust by blending multiple perspectives on complex societal issues, such as those connected to medicine and public health.
The Certificate, Arts & Humanities in Medicine, is the result of an inter-organizational working group from Northern Light/Eastern Maine Medical Center (NL/EMMC) and the University of Maine. This program is focused on the intersection of arts, humanities and medicine seeks to bring together practitioners from many fields and disciplines to explore imaginative solutions to the issue of well-being in the 21st century.
The Native American Studies Program carries out the University of Maine's commitment to diversity through the comparative study of the cultures, history, and contemporary life of the aboriginal peoples and nations of North America, with a focus on the Wabanaki tribes. It seeks to acquire and disseminate resources in this area to scholars and educators at all levels, from elementary school to graduate school. The Native American Studies Program seeks to make knowledge of Wabanaki and other American Indian nations available to the citizens of Maine and beyond through teaching, research, and outreach.
The University of Maine Institute of Medicine is a transformative and coordinated community of collaborating researchers and educators that in partnership with health care providers and other stakeholders are dedicated to the advancement of human health and wellbeing in the state of Maine and beyond, through discovery and learning in health and life sciences, from basic and translational research, to clinical practices and healthcare workforce development.
Click here to learn more about the Art and Humanities in Medicine Certificate Program, here to learn more about the Native American Studies Program, and here to learn more about the University of Maine Institute of Medicine