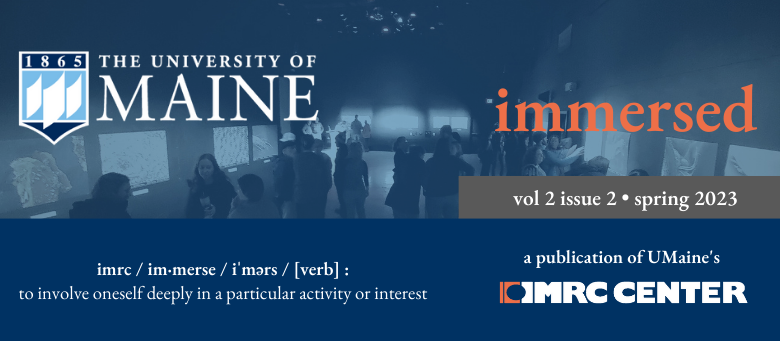 IMRC Center Spring 2023 Newsletter
View S23 IMRC Newsletter Print Version (PDF)
---
Supporting Research and Innovation
April 2023 brought Maine Impact Week back to the Innovative Media Research and Commercialization (IMRC) Center, celebrating research and creative activity from all corners of campus. IMRC Center staff offered tours of the facility to about 65 guests, including members of the Institute of Electrical and Electronics Engineers (IEEE).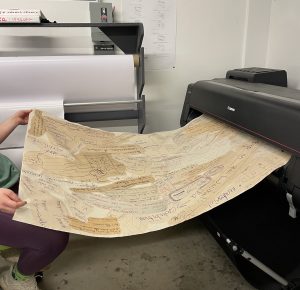 Co-Translation, an exhibition in the Fernald Adaptive Presentation / Performance Environment featuring the work of partnerships between Intermedia and Environmental Engineering students and faculty, illustrated how interdisciplinary collaborations enrich and expand on existing ideas.
Intermedia students Shahab Andarva, Augusta Sparks Farnum, Walter Greenleaf, Luke McKinney, and Alex Rose, with oversight from Intermedia Associate Professor of Research Susan Smith, were awarded the top prize in the Arts category for nanocellulose innovation at the UMaine Student Symposium on Friday, April 14th.
---
Hanna Brooks 2023

An ice sample readied in the completed Ice Vice.

Earth and Climate Sciences PhD candidate Hanna Brooks and IMRC fabrication technician Sean Taylor created a new 3D-printed ice core sample holder made to stand up to extreme cold and to easily accommodate irregular sample sizes. 

Read more about the "Ice Vice" here
---
Thomas Rod Co. fly-fishing rods, handmade in Brewer, Maine, are renowned for their exacting detail, and IMRC Center fabrication technician Sean Taylor took to the Fabrication Lab to help artisan Steve Campbell continue making them according to traditional techniques.
---
Spotlight
Read about Phoenix Sanchez' ('25) album, "A Mediterranean Tugboat," recorded at the IMRC Center.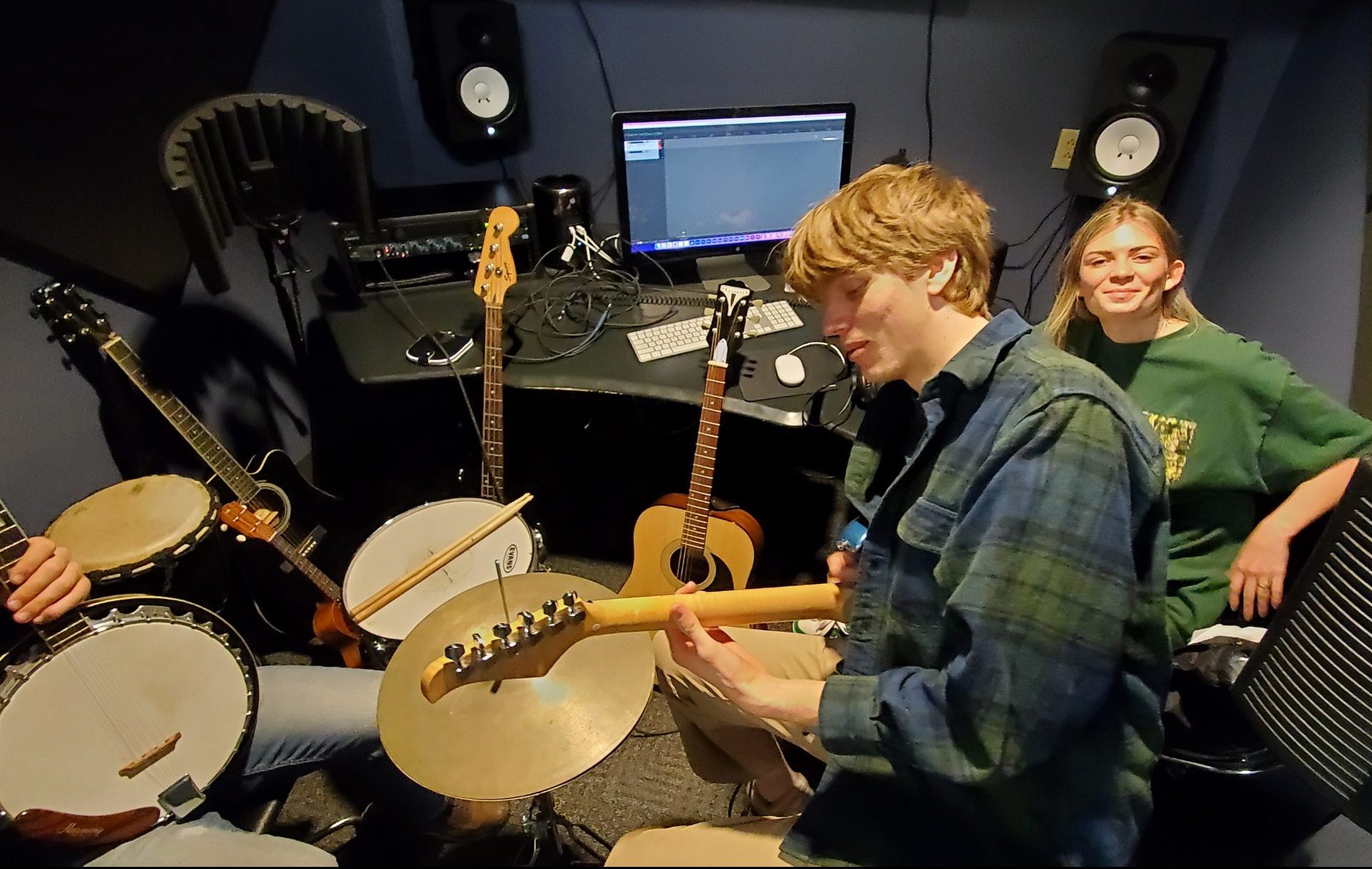 A hearing-assist system was integrated into the APPE Space as of February 2023 and drop-ceilings and other acoustic treatment are being added to classrooms in time for the 23-24 academic year; these improvements will make experiences at the IMRC Center more accessible, professional, and impactful in the coming months.
---
Cross-Campus Collaborations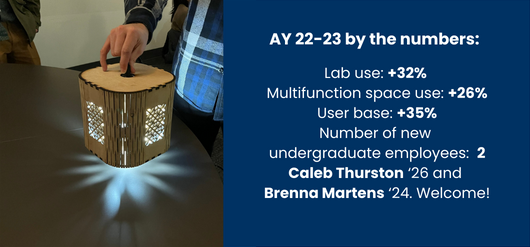 The IMRC Center hosted its largest number of events in a single semester since before 2020 this spring, including:
the "Micro-Image Your Research" Contest, a collaboration with the Electron Microscopy Lab (be sure to click through for the winning images!)

the continuing

Intermedia Speaker Series

, featuring artists Maria Villanueva, Chelsea Knight, and Letitia Huckaby

the IMRC Center's own

Influential Art Film Series

, a total of eight films shown weekly through the support of a Cultural Affairs and Distinguished Lecture Series grant and the UMaine Student Entertainment Committee

the launch of the newest issue of UMaine's

The Open Field

literary magazine by the English department

a

"St. Baldrick's Day" charity event

complete with live music hosted by the campus branch of Kiwanis, Circle K International

and a full slate of thesis exhibitions from Intermedia and New Media students.
---
Devin Rowe 2023

Rowe's insect photogrammetry set-up, built in part at the IMRC Electronics Lab.

Devin Rowe, PhD student in Ecology and Environmental Sciences, shared the results of his recent insect photogrammetry project, for which he built an insect scanning structure at the IMRC Center.

Read more about digitizing the insect world here
---
Acknowledgements
New Media alum Jeff Rampe '16 donated a Formlabs Form2 Resin 3D Printer and accessories for use in the Prototyping Lab. We appreciate you thinking of us, Jeff!
Looking for ways to support the mission of the IMRC Center? Consider a donation via the UMaine Foundation website. Select "Other Fund" when placing your gift, and write "IMRC Center" in the designation box.
Congratulations to Lia Davido, graduating with her MFA in Intermedia this spring. Lia has been an outstanding student employee of the IMRC Center, with a significant depth of knowledge about much of our lab equipment. Lia's patient training of dozens of lab users has made an unmistakable positive impact. We wish Lia good luck on her next adventures, including her accessory and apparel shop featuring her original designs, EarthandDecay.
---
submit your project or event to be featured in

immersed

: imrc@maine.edu